Ask any designer, and they'll tell you the same thing: Stepping into your home should be an experience. If you're not excited or inspired when you walk through the door, then it's time to shake things up a little. Without question, the pros know how to make a stylish entrance.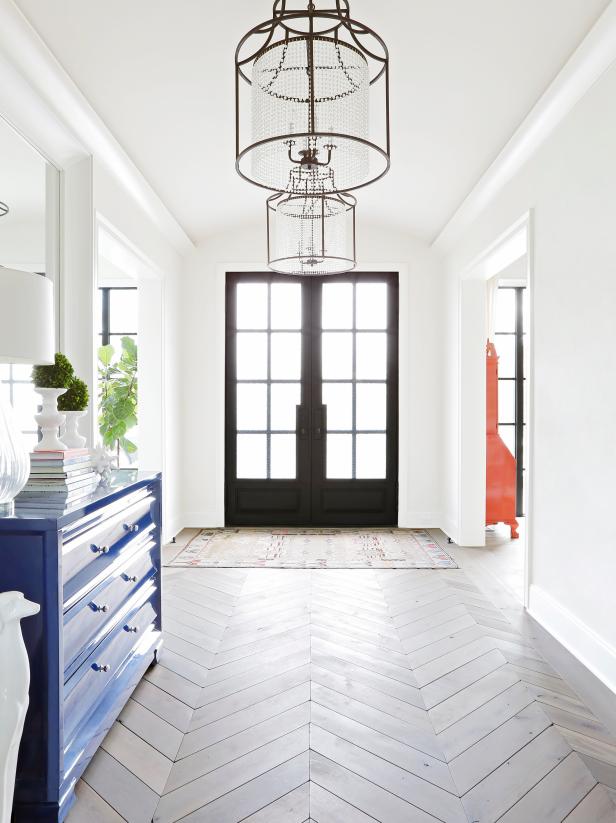 Patterned Floors
If your foyer is looking a little lackluster, trade traditional hardwood floors for an unexpected pattern. Because they're still made of wood, these chic chevron bands by Lori Paranjape add subtle interest to the space without being too distracting. Bonus: The design also encourages flow, directing guests into the heart of the home.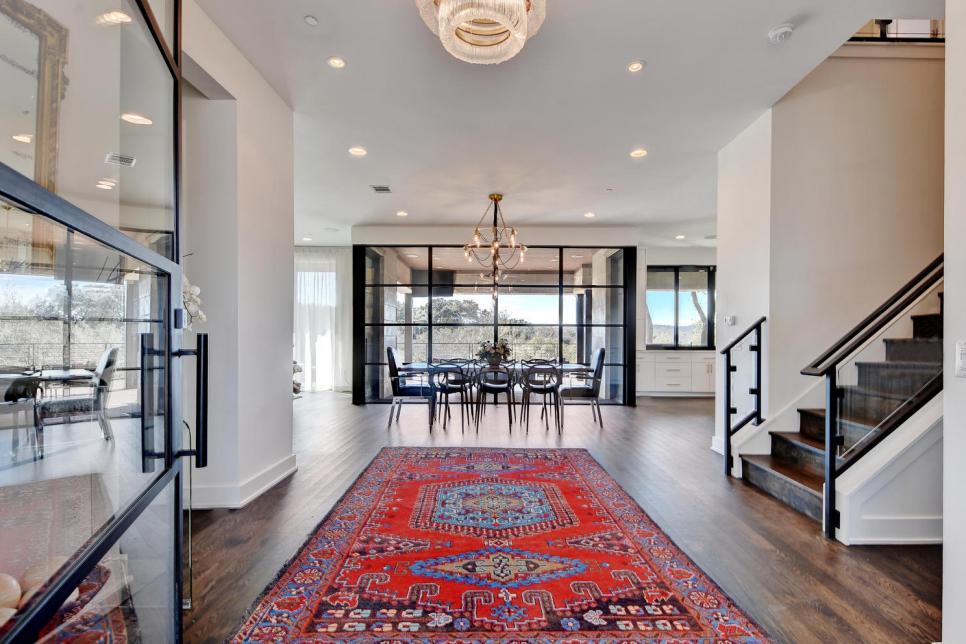 Textured Runners
Area rugs are great for creating a warm welcome, but designer Amy Lutz knows that nothing draws people in quite like a runner. With this ruby-red beauty stretched across your space, you'll visually lengthen the walls and make your entryway seem larger.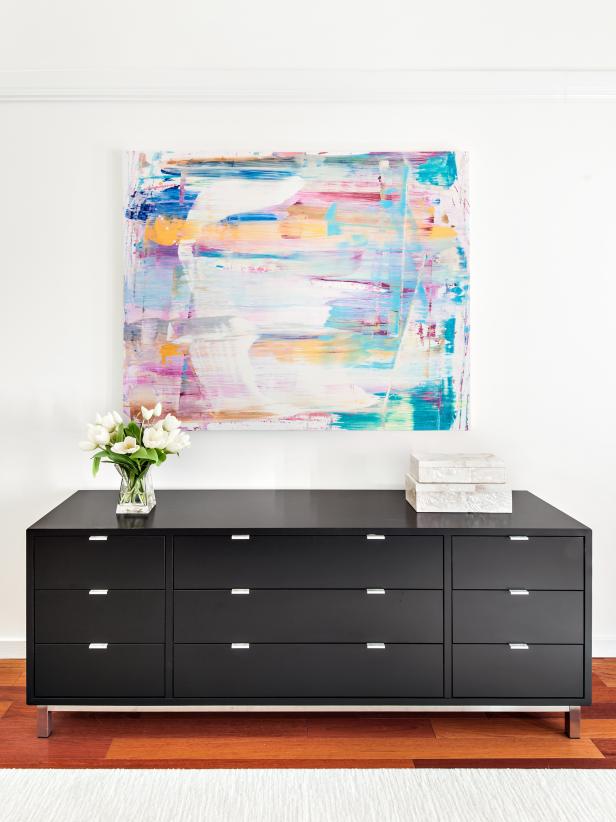 Abstract Artwork
Though portraits, prints and landscapes all add interest to the walls, abstract art gives you the freedom to play with your foyer's shapes and colors. You can echo the blues of a canvas in other accents, or you can complement the painting's bold brushstrokes with square furniture, like designer Claire Paquin did here.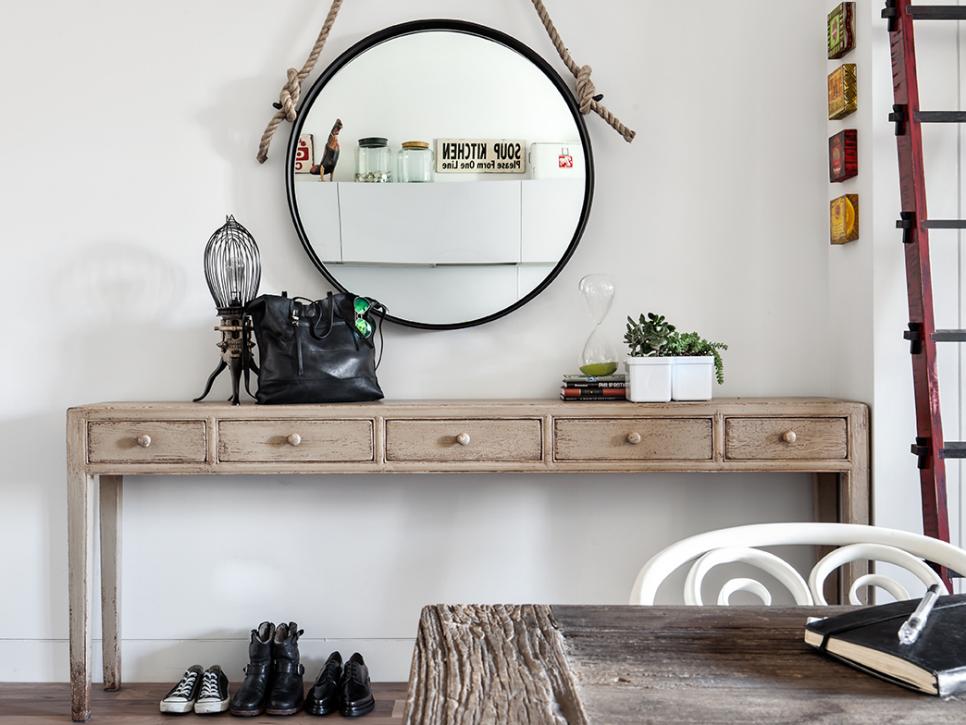 Hang Round Mirrors
Mirrors work just as well because they tend to make narrow spaces seem larger and brighter. For a fresh edge, take cues from designer Allison Lind and choose a round hanging mirror that will add height to the room.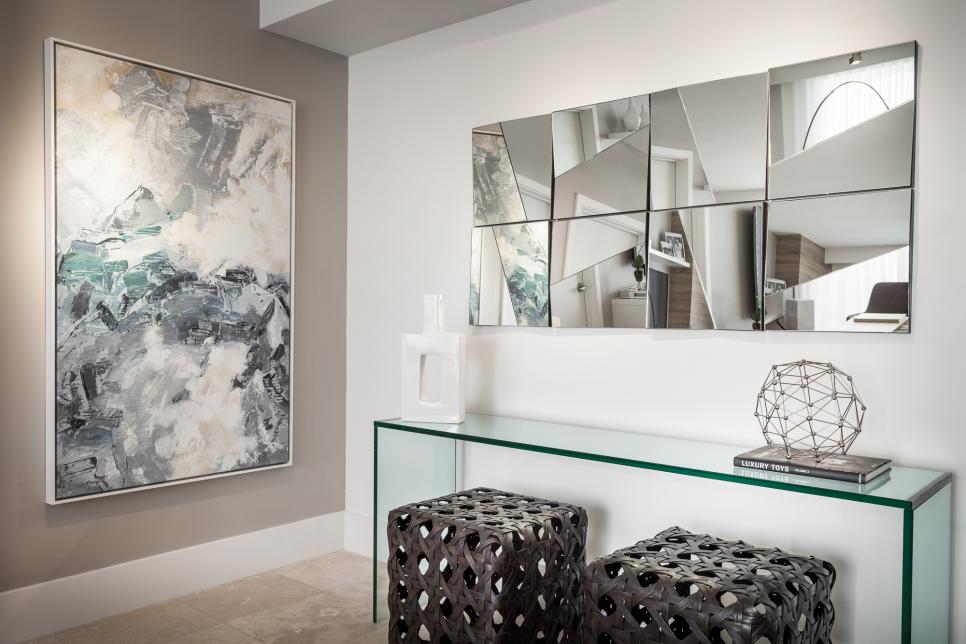 Or Go for Squares
For a different take on how mirrors can make a space seem larger, take a look at how design firm 2id Interiors use a set of squares to elongate the space.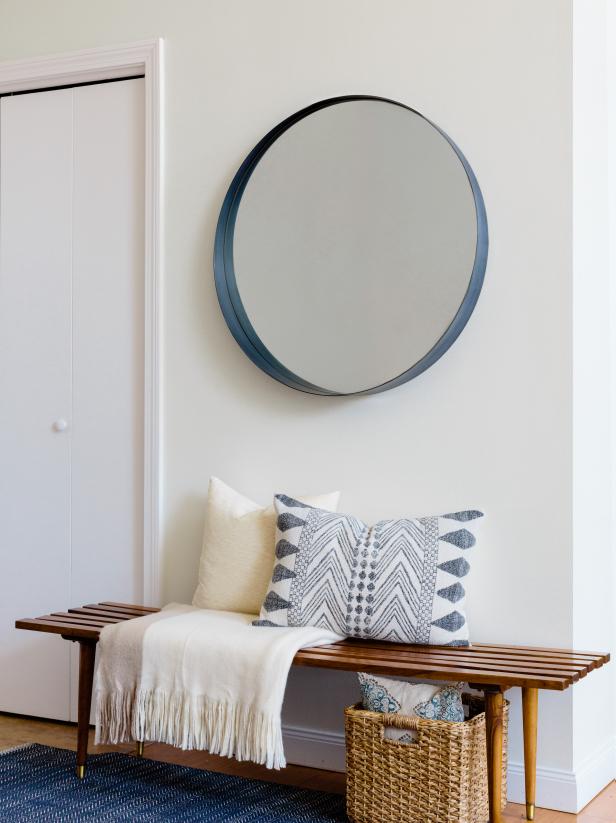 Meaningful Accents
If you prefer that circular style, you're in luck; these pieces also carry a touch of symbolism. In this soothing blue foyer from Barbara Vail, the designer hung a full moon-style mirror by the door to evoke the calm of nature. When paired with a flat wooden bench, the vignette feels keenly earthy and inspires creativity.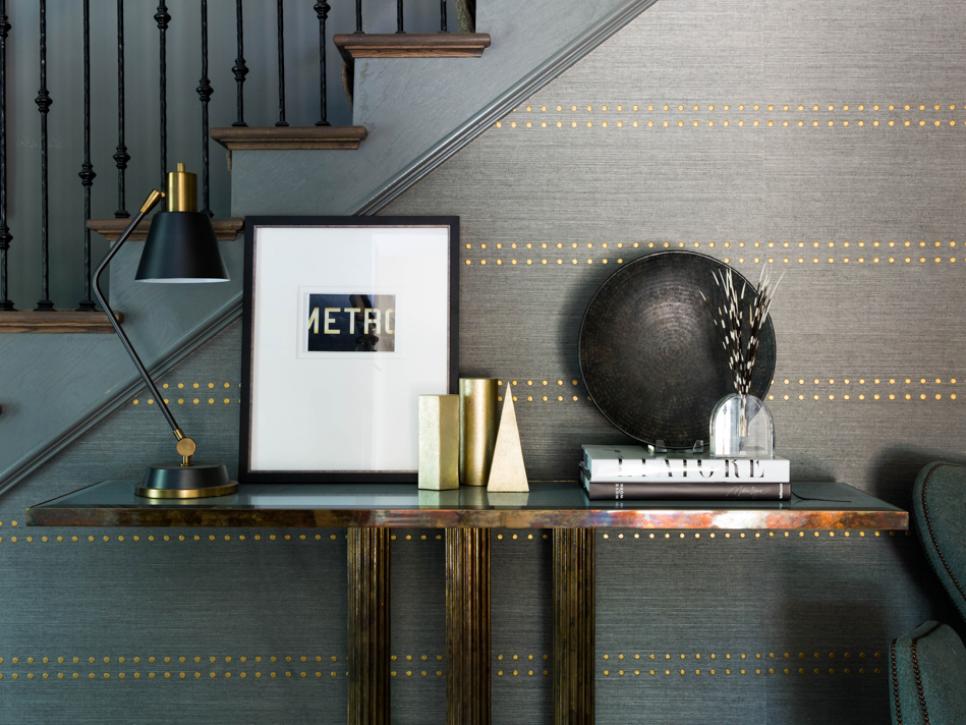 Multifunctional Furniture
To make the most of a small or awkward space, look to multipurpose accents. A console table like this piece from designer Brian Watford can double as a display for your favorite prints and books, as well as provide storage for your keys and mail.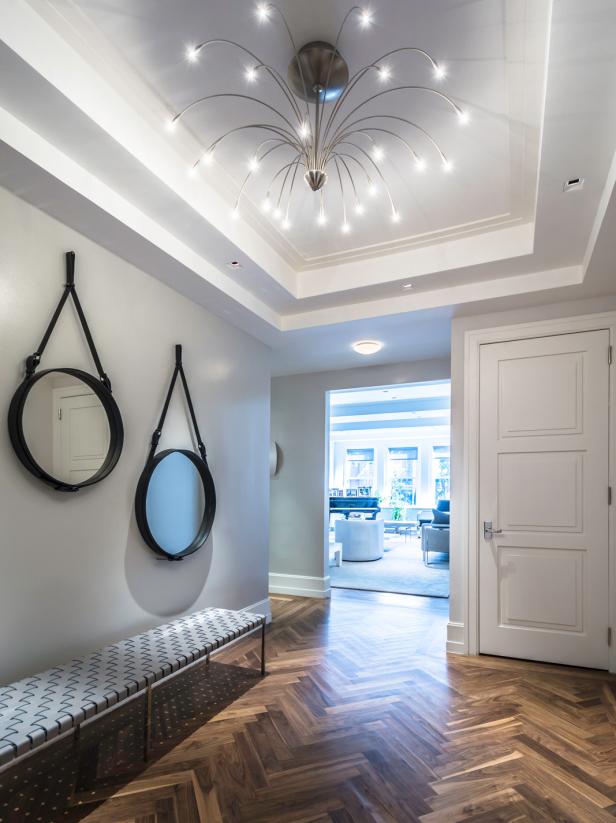 Fab Fixtures
An upholstered bench is featured in this foyer with hardwood flooring and a unique chandelier. Lighting is everything, so if you're really going to make a grand entrance, we say go all out. In this crisp, white foyer from Archetype Design Studio, the chandelier shines like a silver sparkler.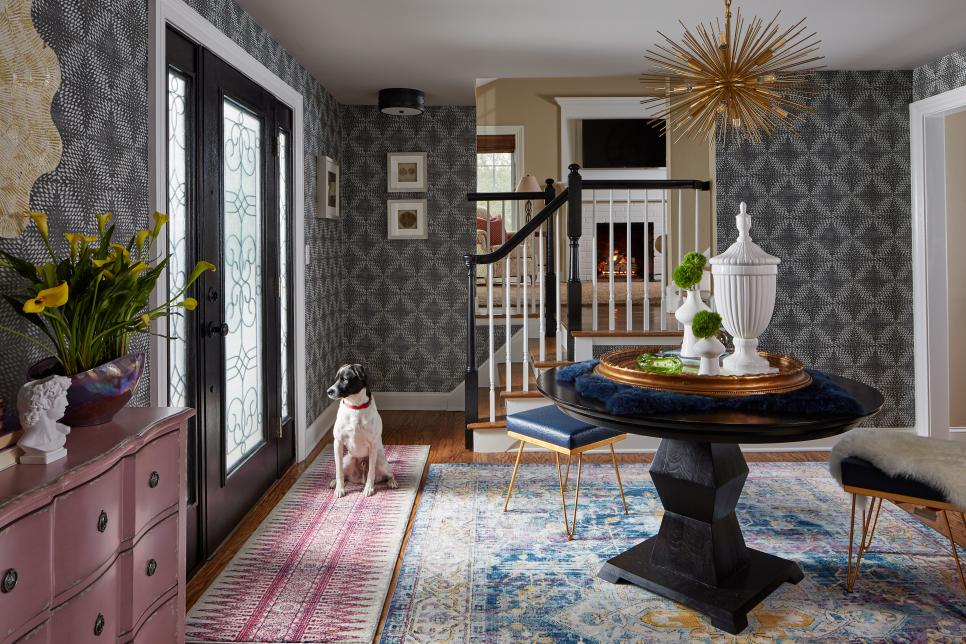 Durable Design Is Key
This entryway designed by Christine Kohut uses a runner in a whimsical, unique way: as an extra long and colorful doormat of sorts. All the rugs in the room are durable to stand up to pets and kid traffic. And their colors and patterns bring in plenty of personality.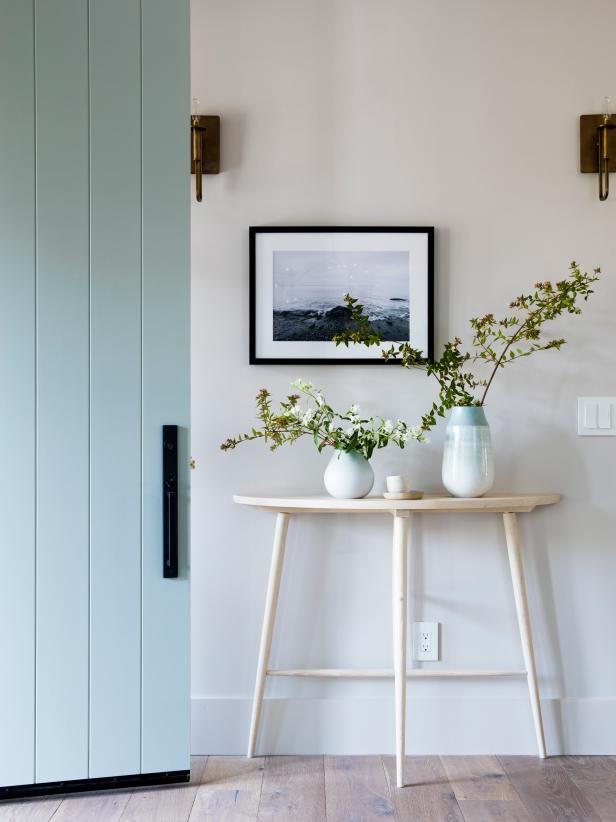 Less Can Be More
How can it be that just a few items create such a sense of peace and grace? This entryway from interior designer Lauren Nelson is a shining example that less certainly can be more.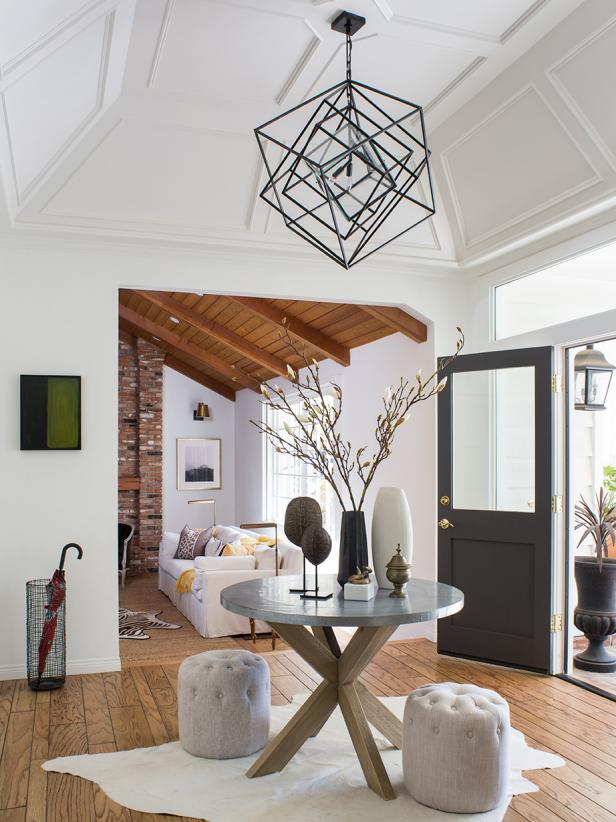 Shape It Up
This foyer by designer Breeze Giannasio delivers a stylish lesson on adding visual interest to a neutral space. So many intriguing shapes fill the room with movement, starting with the geometric pendant light all the way down to the animal skin rug.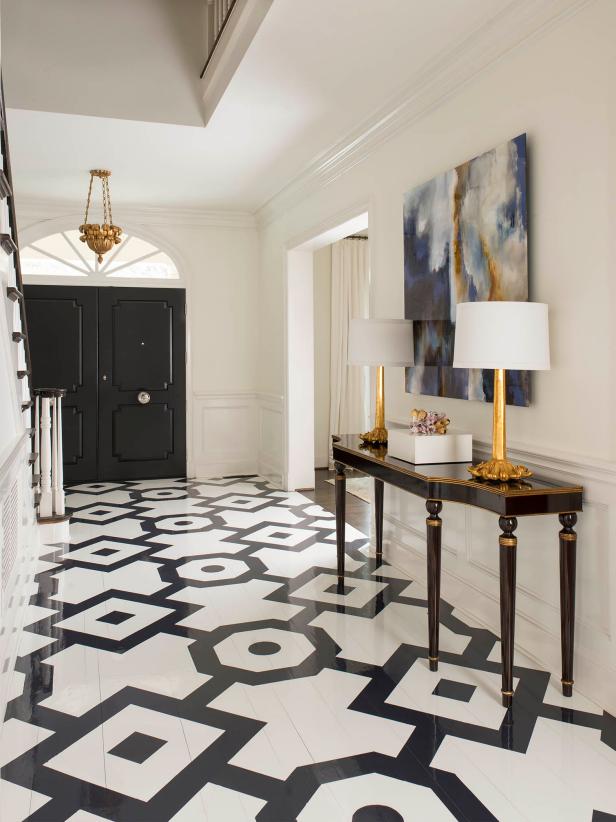 Paint to Last
To make the pattern last in this high-traffic zone, the designers at M. Barnes & Co used high-gloss airport runway paint. The contrast of the dark purple against the white background turns a simple pattern into a dramatic style statement.
Light Is a Natural
Wake Up The Walls
Form and Function
Greeted By a Gallery Wall
Another Bold Gallery Wall
Airy Foyer
Opt for Asymmetry
Use Bold Color
**Post from HGTV.com by Katie Friedman 5/28/2020